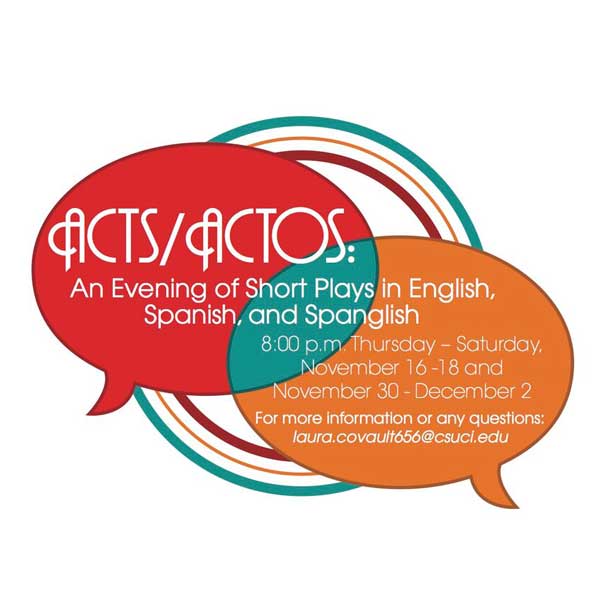 CSU Channel Islands (CI) students will perform a unique collection of short plays in English, Spanish, and Spanglish that explore language, culture, and translation with humor and heart.
The production is staged by CI Performing Arts instructor Laura Covault, guest director Rosa Sandoval, and student directors, with scenic design by Holly Sherman, lighting by Laura Murphy, set construction by Robert Decker, costumes by Joshua Staple, and fight choreography by Jason Rennie.
Six performances will be held in Malibu Hall 140 at the CI campus. All performances will be held at 8 p.m. Thursday through Saturday, November 16-18, and November 30-December 2.
The short plays include "Food for the Dead," by acclaimed Latina playwright Josefina Lopez, "Night of the Living Relatives," a post-apocalyptic zombie comedy by Judy Klass, "Different Courts," by student playwright and Performing Arts – Theatre major Jackson Miller, and many others.
Tickets are free for CI students, $5 for all other students, $10 for CI faculty and staff, and $15 for the public.
Purchase tickets for Acts and Actos online
Or call Brown Paper Tickets at 1-800-838-3006. Tickets may also be purchased at the door with cash. Seating is limited, so advanced purchase or reservations recommended.
Limited complimentary parking is available on campus in designated spaces only. Upon arriving on campus, please follow the event parking signs. Free parking is available at the Camarillo Metrolink Station/Lewis Road parking lot in Camarillo with bus service to and from the campus. Riders should board the VISTA Bus to the campus; the fare is $1.25 each way. Buses arrive and depart from the Camarillo Metrolink Station every 30 minutes from 7 a.m. to 10 p.m. Monday through Friday and Saturday from 7:30 a.m. to 5:30 p.m. For exact times, check the schedule at www.goventura.org.