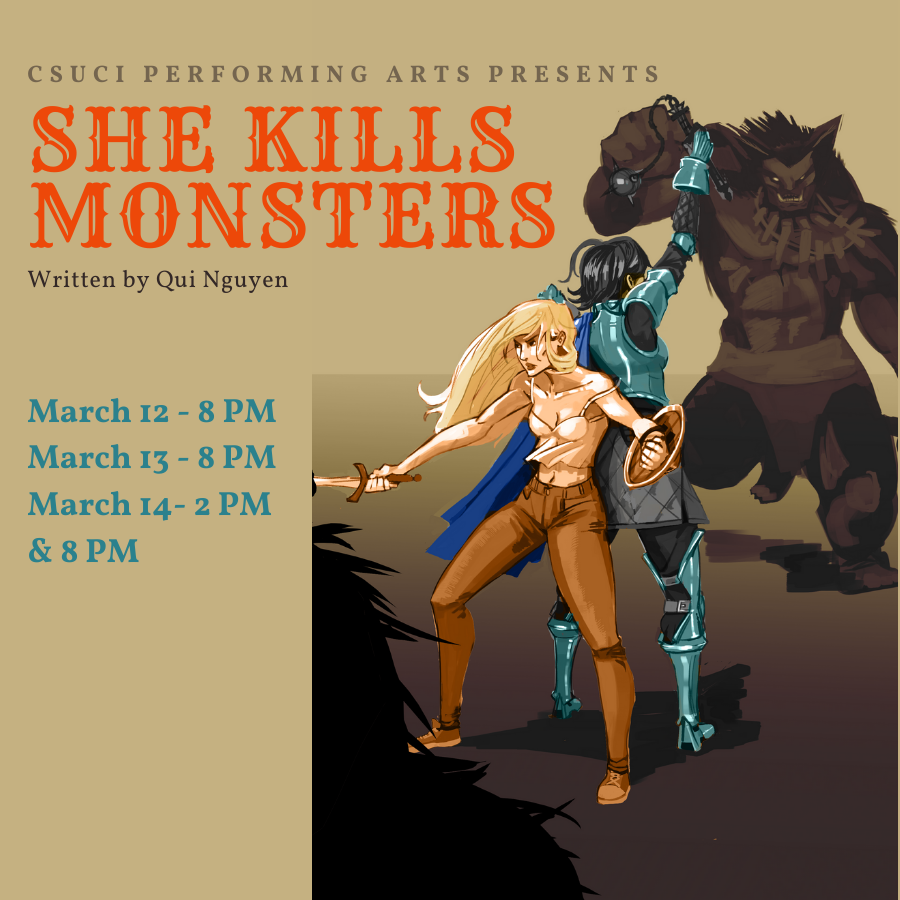 The Performing Arts Program presents SHE KILLS MONSTERS, an award-winning play by Qui Nguyen.
A comedic romp into the world of fantasy role-playing games, SHE KILLS MONSTERS tells the story of high school teacher Agnes Evans as she deals with the death of her younger sister, Tilly. When Agnes stumbles upon Tilly's Dungeons & Dragons notebook, she finds herself catapulted into a journey of discovery and action-packed adventure in the fantasy world that was her sisters refuge. In this high-octane dramatic comedy laden with homicidal fairies, nasty ogres, and '90s pop culture, acclaimed playwright Qui Nguyen offers a heart-pounding homage to the geek and warrior within us all.

SHE KILLS MONSTERS is directed by Laura Covault and Ty Meyers.

Length of show: Approx. 90 mins

Recommended for 6th grade and up (adult themes, language, and stage combat).  

Tickets: $15-General, $10 Faculty, $5 Non CSUCI Students, CSUCI Students Free. Reserve ticket online at $0.00.

Parking is $6.00 and can be purchased at ticket dispenser in parking lot across from library on Camarillo Street (follow signs). You must purchase a parking pass or you will get a ticket.

For questions email: Laura Covault

Show Times:
Thursday, March 12       8:00 pm
Friday, March 13             8:00 pm
Saturday,  March 14       2:00 pm
Saturday,  March 14       8:00 pm

Follow us on Instagram @csuciproductions - tag us in your photos and videos!