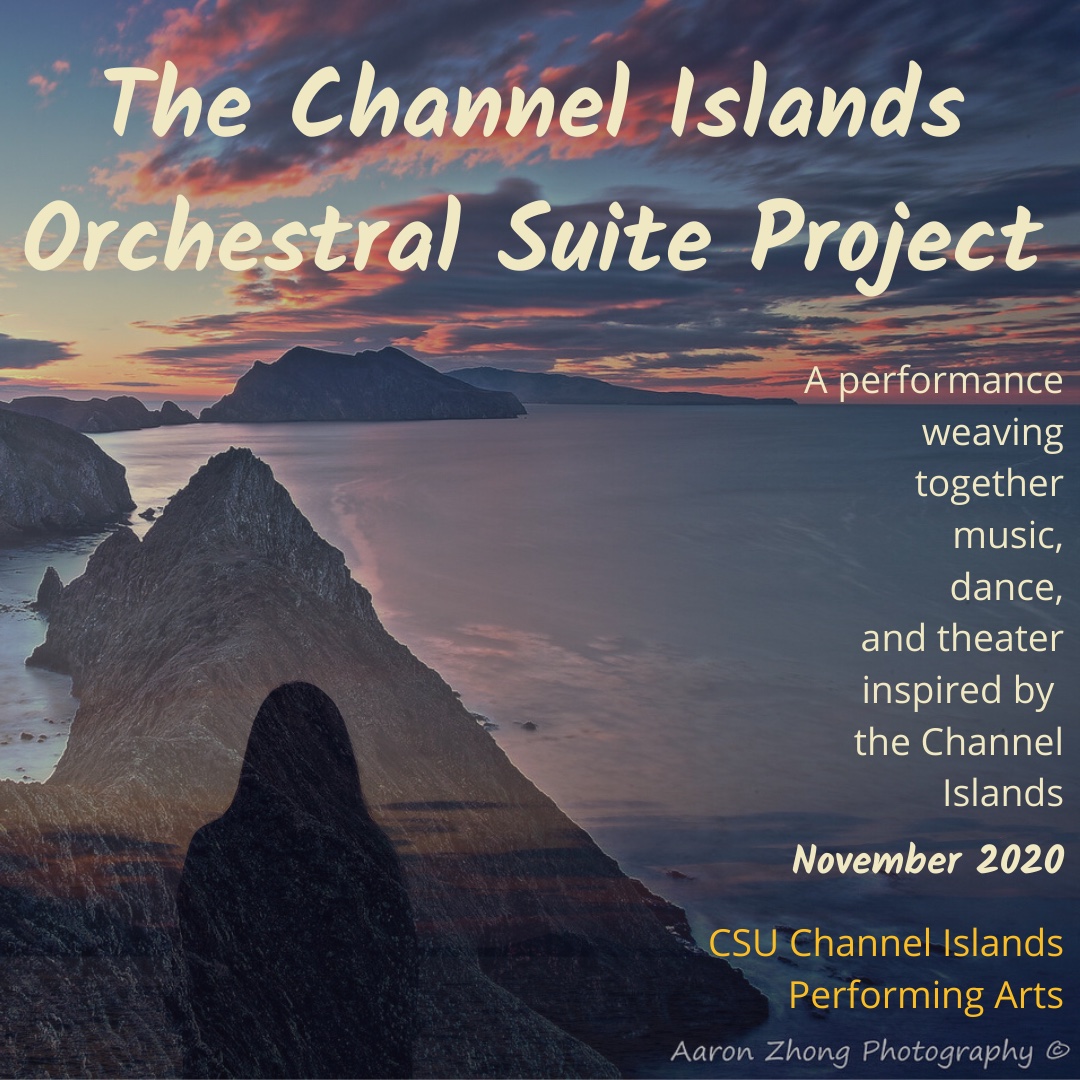 The Performing Arts program is proud to announce that the Fall 2020 mainstage production (whether on a purely virtual platform or streaming from our Malibu Hall Theater stage) will be The Channel Islands Orchestral Suite Project. This original performance will weave together music, dance, and theater inspired by the islands that are our university's namesake. CI Performing Arts faculty members Drs. KuanFen Liu and Catherine Scott Burriss will co-direct this integration of music, dance, theater, and digital media arts. Students will collaborate on creating original and adapted dance and theatrical elements set to The Channel Islands Orchestral Suite, an original composition by Ashley Broder that was commissioned by Dr. Liu and had its premiere in the fall of 2019.
Auditions and Interviews
Students: we needs your talents!
We are looking for choreographers, dancers, actors, writers, researchers, designers, crew and students from any background and experience level who are interested in creating work inspired by the natural and cultural history of the Channel Islands.
To audition or interview:
The Audition and Interview page contains all the information, instructions, and links you need to audition or interview.
Auditions and interviews will be held virtually, with synchronous and asynchronous submission options. Live Zoom or in-person (physically distanced) auditions and interviews will take place in August at the start of the Fall 2020 semester. You may submit audition or interview recordings all summer. All students who will be enrolled at CI for the Fall 2020 semester are welcome to audition or interview!
More about the Channel Islands Orchestral Suite and this performance
The Channel Islands Orchestral Suite is a set of meditative tone poems composed by Ashley Broder based on each of the eight islands: Santa Cruz, San Nicolas, Anacapa, Santa Barbara, San Clemente, San Miguel, Catalina, and Santa Rosa.
The California Channel Islands are a remarkable ocean treasure embodying a wealth of natural and cultural resources. The Channel Islands Orchestral Suite Project (CIOSP) aims to bring attention to the natural, cultural, historical and archeological phenomena that are the Channel Islands. The biodiversity of the Channel Islands is unsurpassed, but their ecosystem is fragile. CIOSP will serve to further enlighten the community as to the uniqueness of this archipelago, which is virtually on our doorstep, encouraging conservation efforts and furthering support of restoration programs, the way only the performing arts can.
The Suite is organized into eight movements, one movement dedicated to each island. A variety of study methods have been used, including spending a period of time on each island, studying the extensive history of each island and its past and current inhabitants, and determining the geographic features of each island, designing and composing the composition in a way that conveys the beauty and magnificence of the islands. Musical imagery is used in each movement to convey the important and distinguishing elements of each island.
Santa Cruz Island is large and diverse. A full chamber orchestra with brass instruments will create a loud, powerful piece with themes inspired by Chumash ceremony. The wind, isolation, and story of the Lone Woman are the inspiration for the San Nicolas movement. Over a tumultuous base of strings and woodwinds, a soprano voice will carry the melody thought to have been the Lone Woman's song recorded on wax cylinder in 1913. Anacapa Island is one of the most iconic and most frequently visited islands. The cheerful melody will be played by a string quartet with two French horns, contributing to the foghorn ambience. Santa Barbara Island has been declared an "important Bird Area" (IBA) by the National Audubon Society. Parts of the bird songs will be woven into a woodwind, percussion, and marimba ensemble. The San Miguel movement begins with a light, giddy mood and finishes with a more serious tone, mirroring the experience of ranching families who lived on the island in the 1800's and 1900's. Santa Rosa Island is slowly recovering from destructive cattle grazing. As befitting the second largest island, the instrumentation will include the entire chamber orchestra. Brass, woodwinds, strings and percussion will entwine melodies and counterpoint, and are arranged to come together in a triumphant conclusion.