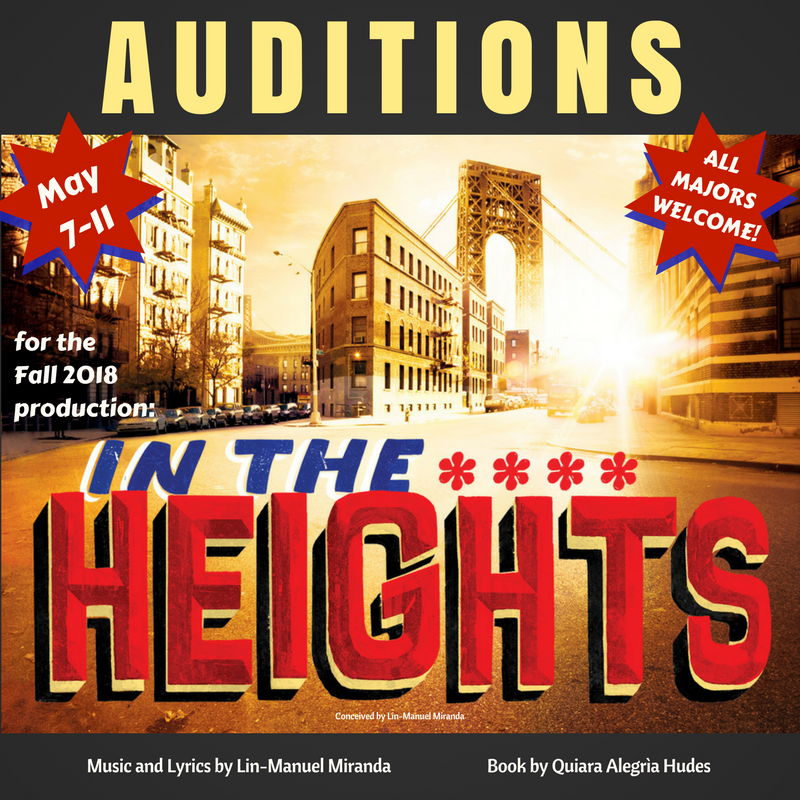 The Performing Arts program is thrilled to announce that the fall 2018 production with be In the Heights, Hamilton-creator Lin-Manuel Miranda's award-winning Broadway hit.
Sign up now!
In the Heights will be the culmination of PA/ART 391 Production, a 3 unit course open to all majors. 
If you missed the spring auditions, some roles have been cast, but we will be holding further auditions at the start of the fall semester. 
Interviews will be scheduled individually for behind the scenes roles:
technical crew
design team
social media publicity team
dramaturgy/research team
Students interested in interviewing or auditioning, or people who want to participate and are not currently CI students but will be enrolled in the Fall 2018 semester, can enroll in PA 391 Production. Plan on attending and auditioning/interviewing the first day of classes, Monday, August 27. 
Audition information for August 27 at 6:00 PM
A
c
t
o
r
s
/
s
i
n
g
e
r
s should: 
Prepare 16-32 bars of a song that showcases your strengths. You may accompany yourself, sing a cappella, or bring a music file to be played on a device with a 1/8 inch headphone jack.

Come dressed to move in comfortable clothing and shoes.
Dancers should:
Come dressed in clothes you can move in and tennis shoes/sneakers..

 
Fall callbacks will be held the evening of Tuesday, September 4.
Please contact the Director and co-instructor, Catherine Burriss at catherine.burriss@csuci.edu, to schedule interviews or request further information regarding fall auditions.
More about In the Heights
An ensemble show set on one vibrant block of the Washington Heights neighborhood of New York City, In the Heights features interwoven stories about a variety of characters living or working on the block, ranging from "Abuela Claudia"--a Cuban immigrant who acts as everyone's grandma, and who took in the owner of the block's bodega, Usnavi, when his parents died in his childhood--to Carla, an employee at Daniela's "Salon Unisex" who describes her identity like this: "My mom is Dominican-Cuban / My dad is from Chile and P.R. which means: / I'm Chile-Domini-Curican... / But I always say I'm from Queens!"
The most notable character for CI's community is Nina, a first generation Latina college student who has just returned home for the summer. Her revelation that she dropped out of university because she had to work too much to pass her classes throws the tight-knit community into upheaval and drives the plot of the show.
In The Heights won four Tony awards--Best Musical, Best Original Score, Best Choreography, and Best Orchestrations. It was also nominated for the Pulitzer Prize for Drama in 2009. Written by Hamilton composer Lin-Manuel Miranda, In The Heights is an important part of the American Musical Theatre canon and a turning point for its use of rap and other popular music genres.