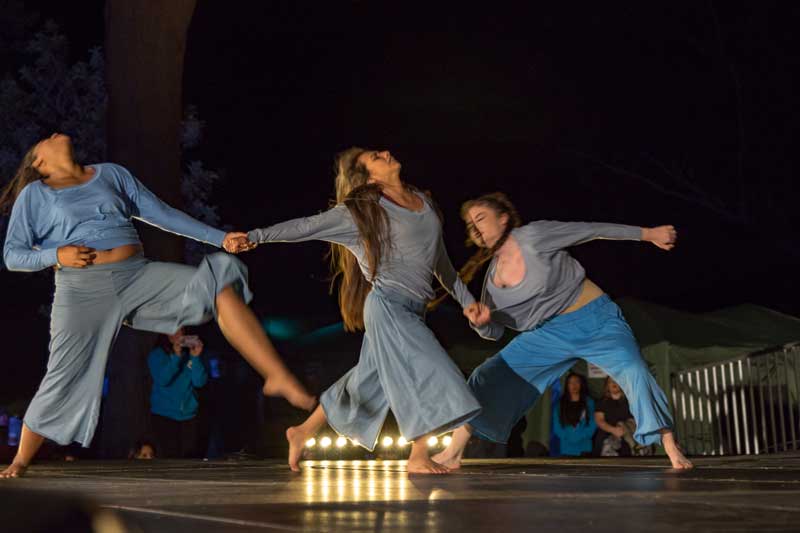 The Performing Arts Dance Emphasis is an innovative and bold program for the 21st century. Created in the digital age, the emphasis fosters ingenuity through collaborative dance experiences. Expert faculty are active in commercial and theatrical dance industries giving students real world perspective and opportunities. The Dance Emphasis is one of the few academic programs where the focus is on the American multicultural genres of Jazz, Hip Hop, and Contemporary dance.
Dance is a global art form that transcends spoken language. At CI we recognize the many pathways our students have taken to dance. We believe in a diverse dance community and welcome all levels and experiences.
The ever-changing dance landscape requires the movement artist to be ready to explore new concepts and vocabularies. CI's expert faculty believe training should be based in biomechanical function that supports any genre, style, or career trajectory in dance. The versatility, strength, and artistic elasticity achieved by CI dancers not only prepares them for the unknown dance future but to be the innovators and leaders of tomorrow.
Jazz, Hip Hop, and Contemporary dance forms are rooted in the multicultural tapestry of the United States and are the foundational techniques of the program. Staying current and global, the dance emphasis continually adds genres for students to explore. Curriculum is expanding to include Tap, Ballet, and Global Dance forms.
Dance can be a life-long and fulfilling career. There are opportunities in education, therapy, business management and many more. Courses such as Conditioning for Dancers, Teaching Dance to Children, and participating in productions such as Arts Under The Stars prepares students for a career in various fields of dance.
The Performing Arts Dance emphasis will prepare the students for a career in wide array of dance-related opportunities including professional dancer (film, television, theatrical, industrial, theme-park, cruise ship etc.), choreographer, educator(commercial studio, k-12, higher-ed), agent, adjudicator, therapist, dance critic, producer, studio owner, dance photographer/videographer, dance film director, dance arts management and a host of other possibilities.
Curriculum and flowchart (PDF, 39.4KB)
Loading...