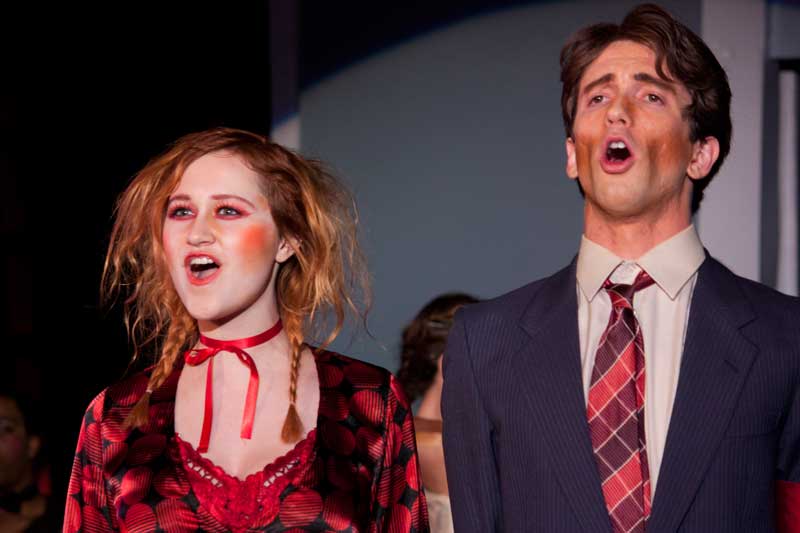 Students in the Theatre Emphasis complete intensive coursework in the analysis, theory, and practice of acting and directing, collaborating both within various theatrical styles and across Performing Arts disciplines.
The Emphasis in Theatre at CI may not get you discovered (or it might--check out our alumni!) but it will definitely help you discover yourself, while you discover theatres of today, long ago, close to home, and far away. Our faculty's broad and varied expertise will help you find your passion in theatre. Our curriculum offers intensive practical and conceptual study, while also offering unparalleled opportunities to develop twenty-first century skills like collaborative problem-solving, oral and written communication, visual and textual analysis, and empathy.
The Performing Arts Theatre emphasis offer students solid foundations for a wide variety of careers, further studies, and other opportunities ranging from directly theatre-related professions—professional actor (theatre, film, television, industrial, theme-park, cruise ship, etc.), director, playwright, dramaturge, theatre educator (k-12, higher-ed, regional theatre, private coaching), theatrical agent, theatre critic—to lines of work that draw on the valuable transferable skills that characterize the PA-Theatre curriculum—therapist, producer, event planner, special education teacher, performance photographer/videographer, film or television director, arts manager, and myriad other possibilities.
Curriculum and flowchart (PDF, 40KB)
Loading...