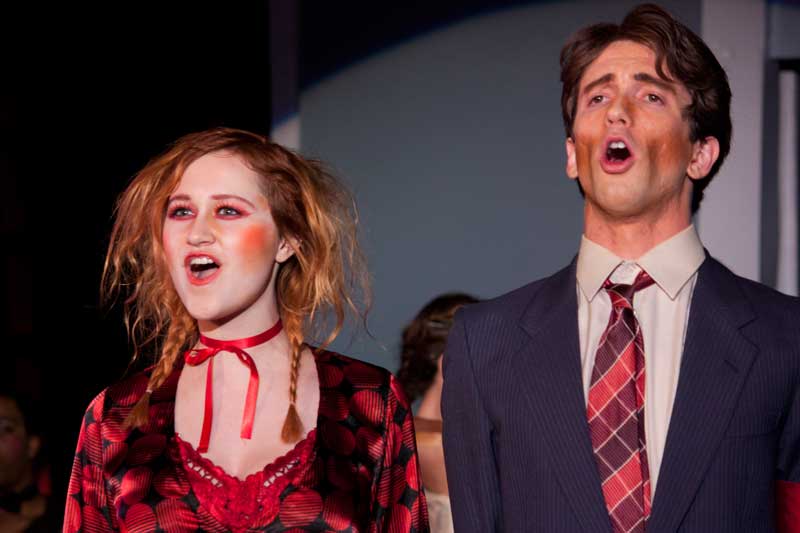 The Performing Arts Theatre emphasis will be expanding, pending final approvals by the Chancelor's Office, to a B.A. in Theatre and Performance Studies.
New Program Description
The Theatre and Performance Studies program at California State University Channel Islands provides an inclusive learning environment that promotes and values creativity, collaboration, community, and culture through embodied performance, on stage, on screen, and in everyday life. The degree offers students a strong foundation of performance skills in the areas of theatre as well as new media. Coursework is anchored in imagination, individual experiences, local and global awareness, current and historical events, and the performance traditions of diverse cultures, all as sources of artistic expression, intellectual inquiry, and human connection.
Theatre and Performance Studies offers students opportunities to:
Develop proficiency in performance-based storytelling, whether live, recorded, in-person, or virtual
Cultivate an understanding of how representation functions and how it matters on various stages and screens, and beyond
Explore and appreciate multiple aspects of theatre-making: acting, directing, writing, managing, producing
Use their voices, both physically and metaphorically, as individuals, as community members, and as global citizens
Careers
The Theater and Performance Studies major prepares students to forge their own unique and creative career paths by integrating their skills in collaboration, critical thinking and creative problem-solving, with their understanding of embodied performance forms, histories, and cultures in order to work or pursue advanced studies in diverse interconnected careers and contexts, including Hollywood, Broadway, regional theatre, digital platforms, education, community organizations, arts activism, somatic practice, drama therapy, social work, arts administration, and other performance-oriented jobs not yet in existence.
Lower Division (21 units for 4-year plan; 18 for AA-T/Transfer Model Curriculum)
THTR 100 Theatre and Performance Studies in Our Communities
THTR 180 Acting I: Foundations
THTR 181 Vocal Empowerment on Stage and Screen
PA 191 Production
THTR 238 Global Theatre and Performance in History I
THTR 280 Acting II: Characterization
THTR 281 Script Analysis for Stage and Screen
Upper Division (33 units for 4-year plan; 36 for AA-T/Transfer Model Curriculum)
THTR 300 Engaging Communities with Theatre and Performance Studies
THTR 338 Global Theatre and Performance in History II
THTR 344 Global Theatre and Performance Literatures
THTR 380 Acting III: Performance Styles
THTR 381 Performance and Presence on Stage and Screen
THTR 382 Directing
PA 391 Advanced Production
THTR 480 Acting IV: Preparation for Professional Performance+
THTR 481 Research Methods for Stage and Screen+
THTR 499 Capstone: Community Collaboration in Theatre and Performance Studies~
Repeat twice for 6 units of different topics:
THTR 333 Topics in Theatre & Performance Studies
Curriculum and flowchart (PDF, 40KB)
Loading...