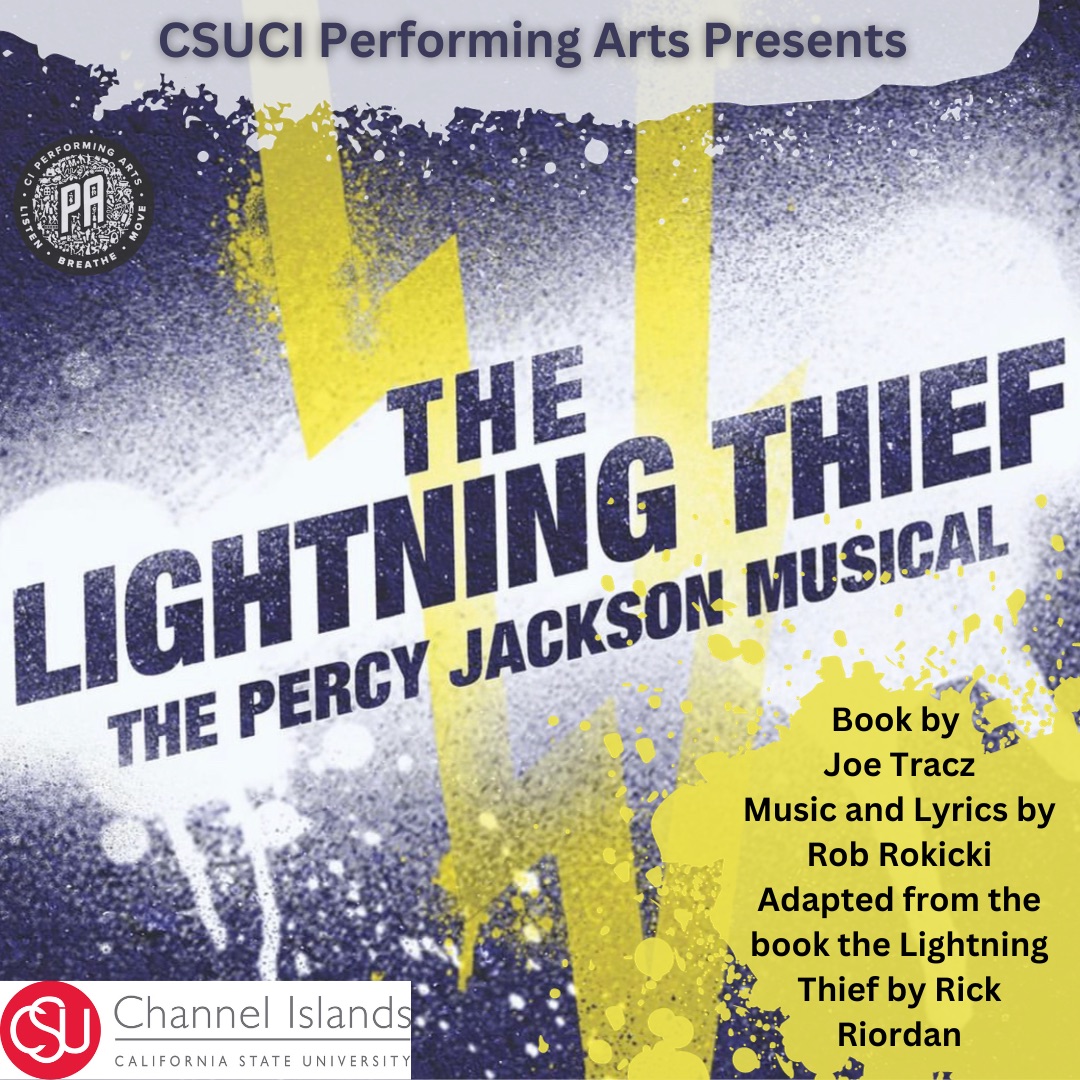 About the Show
CI's Performing Arts Department presents THE LIGHTNING THIEF, THE PERCY JACKSON MUSICAL. Book by Joe Tracz, Music & Lyrics by Rob Rokicki. Adapted from the book The Lightning Thief by Rick Riordan. The musical is directed by theatre professor Laura Covault and CI alumni Griffin Giboney. and includes performances by students in PA/ART 191 Production and PA/ART 391 Advanced Production, Campus performances run November 9-18.
The Lightning Thief: The Percy Jackson Musical is a musical adaptation of the best-selling 2005 novel by Rick Riordan. It follows a 12-year-old boy named Percy Jackson who learns that his true father is Poseidon, the Greek god of the sea. Percy and his friends Grover and Annabeth set out on a quest across the country in hopes of reaching the Underworld to stop a war between the gods. This high-energy pop/rock musical is sure to get your toes tapping as Camp Half-Blood comes to life on stage!
Thursday, November 9 at 8 pm
Friday, November 10 at 8 pm
Saturday, November 11 at 2 pm and 8 pm
Thursday, November 16 at 8 p.m.
Friday, November 17 at 8 p.m.
Saturday, November 18 at 2 p.m. and 8 p.m.
Ticket prices: CI students: FREE, Other Students: $5, Faculty and Staff: $15, General Public: $25 (IDs or student ID #s checked at the door)
Campus parking permits are required and available for $6 at the kiosk in front of Public Safety.
This performance runs approximately 2 hours including a 15-minute intermission.
WARNING: Synthetic fog and strobe lights as well as loud sounds are used during this performance.
For more information about the show, please contact instructor, director and producer, laura.covault656@csuci.edu.
THE LIGHTNING THIEF is presented by arrangement with Concord Theatricals.www.concordtheatricals.com
Access the Digital Program
Coming soon!
Reserve Tickets
CSUCI students can reserve a free ticket. Tickets range from $5-$25 and advanced online purchase. Ticket sales at the door will be limited. Add a Ticket Quantity below to select a Performance Date.