Performances at CI range from world premiere original works to modern takes on Shakespeare to classics of the musical theatre canon like CABARET to the ground-breaking interdisciplinary, student research-based creations of our annual Arts Under the Stars extravaganza.
IN THE HEIGHTS
An important update about IN THE HEIGHTS
On November 14, it was announced that CSUCI formally declared a state of emergency with the State of California and US Department of Education. Classes at CSU Channel Islands, including all events and performances, are suspended until November 26, so we have had to cancel original run of performances of IN THE HEIGHTS. (Class suspension FAQ)

We have all been deeply affected by the horrific shooting at the college night of The Borderline Bar & Grill, where many in our cast were regulars, and by the fires still raging throughout California. While CI has suspended classes out of concern for those who have lost homes or loved ones, our student cast and crew and professional production and creative teams are able to return after Thanksgiving for three performances only:

Wednesday, November 28, 8pm
Saturday, December 1, 2pm
Saturday, December 1, 8pm

Please reach out to the excellent Brown Paper Tickets box office customer service team 24/7 at 1.800.838.3006 option 2 or support@brownpapertickets.com to exchange or refund tickets.

We know that theatre, and this show in particular, can serve many important purposes in times like these: a brief respite, a catharsis, a reason to laugh or cry, a reminder of hope, a way to connect with each other. IN THE HEIGHTS is about a community coming together to face a multitude of difficulties. We wish you all strength and solace in the coming weeks, and hope you can come together with us to experience this powerful and poignant show.
An ensemble show set on one vibrant block of the Washington Heights neighborhood of New York City, IN THE HEIGHTS features interwoven stories about a variety of characters living or working on the block, ranging from "Abuela Claudia"--a Cuban immigrant who acts as everyone's grandma, and who took in the owner of the block's bodega, Usnavi, when his parents died in his childhood--to Carla, an employee at Daniela's "Salon Unisex" who describes her identity like this: "My mom is Dominican-Cuban / My dad is from Chile and P.R. which means: / I'm Chile-Domini-Curican... / But I always say I'm from Queens!"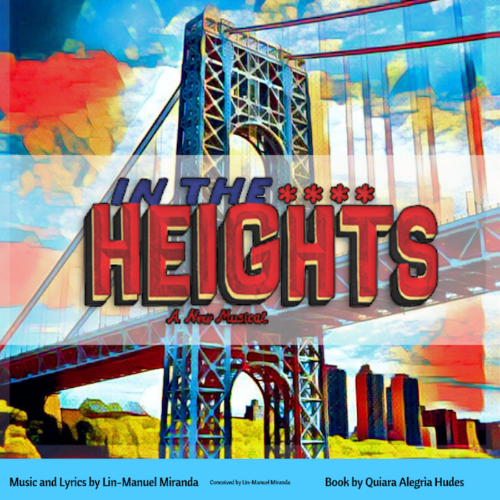 Thursday November 8 @ 8pm CANCELLED
Friday

November

9 @ 8pm

CANCELLED

Saturday

November 10

@ 2pm

CANCELLED

Saturday

November 10

@ 8pm

CANCELLED

Thursday November 15 @ 8pm

CANCELLED

Friday November 16 @ 8pm

CANCELLED

Saturday November 17 @ 2pm

CANCELLED

Saturday November 17 @ 8pm

CANCELLED
FREE to CI Students
Purchase tickets and learn more about In the Heights at CI
Development of IN THE HEIGHTS was supported by the Eugene O'Neill Theater Center during a residency at the Music Theater Conference of 2005. Initially developed by Back House Productions.

Originally Produced on Broadway by Kevin McCollum, Jeffrey Seller, Jill Furman Willis Sander Jacobs, Goodman/Grossman, Peter Fine, Everett/Skipper.

IN THE HEIGHTS is presented through special arrangement with R & H Theatricals
University Chorus Fall Concerts
Monday, December 3, 7:30 PM at the CSU Channel Islands Campus, Malibu 100
Sunday, December 9, 2 PM at St. Columba's Episcopal Church (1251 Las Posas Road, Camarillo)
Dr. KuanFen Liu, Conductor
Arts Under The Stars: Channels Island's Annual Integrative Extravaganza
Arts Under The Stars is a campus wide research and creative performance event that brings the entire campus and community together. Subjects ranging from transgender bullying, bird migration, cancer cells, the Santa Rosa Island research station, and feminist mythology have all been presented as multi-media spectacles that speak to the heart and mind. Student and faculty researchers, creators, performers, and visual artists collaborate to bring campus, regional, and global issues to life. The May 2019 Arts Under the Stars performances focus on the Center for Integrative Studies theme of METAMORPHOSIS.
For the past four years, AUTS has been on the forefront of partnering performance with digital technology. Mobile device programs offered in English and Spanish, augmented reality scavenger hunts, and an interactive website have all been student driven innovations reflecting our culture, green movement, and untethering capabilities.
Fore More Information Contact:
heather.castillo@csuci.edu
805-437-2052