Performances at CI range from world premiere original works to modern takes on Shakespeare to classics of the musical theatre canon like Cabaret to the ground-breaking interdisciplinary, student research-based creations of our annual Arts Under the Stars extravaganza.
Acts & Actos: an Evening of Short Plays in English, Spanish, and Spanglish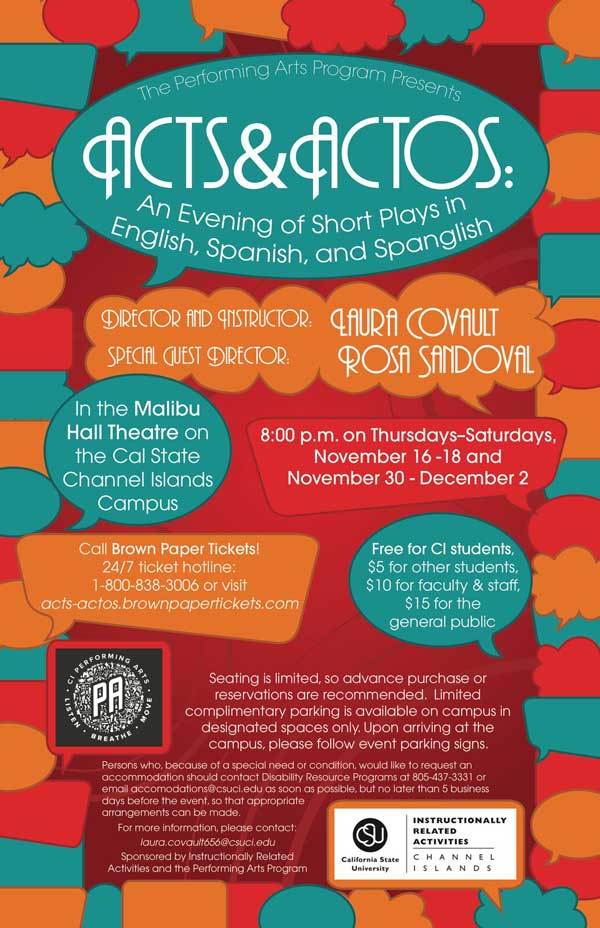 Thursday November 16
Friday November 17
Saturday November 18
Thursday November 30
Friday December 1
Saturday December 2
FREE to CI Students
Under the direction of Performing Arts instructor Laura Covault and guest director Rosa Sandoval, CI students perform a unique collection of short plays that explore language, culture, and translation with humor and heart.
Purchase tickets for Acts and Actos online
Arts Under The Stars: Channels Island's Annual Integrative Extravaganza
Arts Under The Stars is a campus wide research and creative performance event that brings the entire campus and community together. Subjects ranging from transgender bullying, bird migration, cancer cells, the Santa Rosa Island research station, and feminist mythology have all been presented as multi-media spectacles that speak to the heart and mind. Student and faculty researchers, creators, performers, and visual artists collaborate to bring campus, regional, and global issues to life.
For the past three years, AUTS has been on the forefront of partnering performance with digital technology. Mobile device programs offered in English and Spanish, augmented reality scavenger hunts, and an interactive website have all been student driven innovations reflecting our culture, green movement, and untethering capabilities.
Arts Under The Stars needs a large range on artists and people who have IDEAS to collaborate! Graphic designers, video artists & animators, dancers, choreographers, drone operators, actors, directors, musicians, composers, writers, researchers, event planners, social media managers, stage managers, computer game specialists, augmented reality specialists-and those new positions for ideas that are waiting to be discovered!
If you have an idea or a concept you want to try, check out the call for research and creative ideas and propose an idea here: 
Would you like to perform, design, create, collaborate, plan? Enroll in Performing Arts Production Course for Spring 2018 PA/ART 391 or in PA Events 390.
Arts Under The Stars 2018 will take place May 4 & 5 in El Dorado Park on the CI Campus. Bring your picnic blankets and lawn chairs for park style seating. The event is free and open to the public. Parking is $6.
Fore More Information Contact:
heather.castillo@csuci.edu
(805) 437-2052
Winter Concert: "A Poet Sings" - Songs & Poetry Inspired by the British Isles
Dr. KuanFen Liu, Conductor
Monday, December 4th at 7 PM Location: Malibu Hall, CSU CI Campus
Sunday, December 10th at 3 PM Location: St. Columba's Episcopal Church. 1251 Las Posas Road, Camarillo
Choral Spectacular 2018 with Channel Islands Chamber Orchestra
Dr. KuanFen Liu, Conductor
Five Mystical Songs by Ralph Vaughan Williams
Old American Songs by Aaron Copland
Saturday, May 5th at 7 PM Location: Rancho Campana High School. 4235 Mar Vista Dr, Camarillo
Sunday, May 6th at 3 PM Location: First United Methodist Church. 1338 East Santa Clara Street