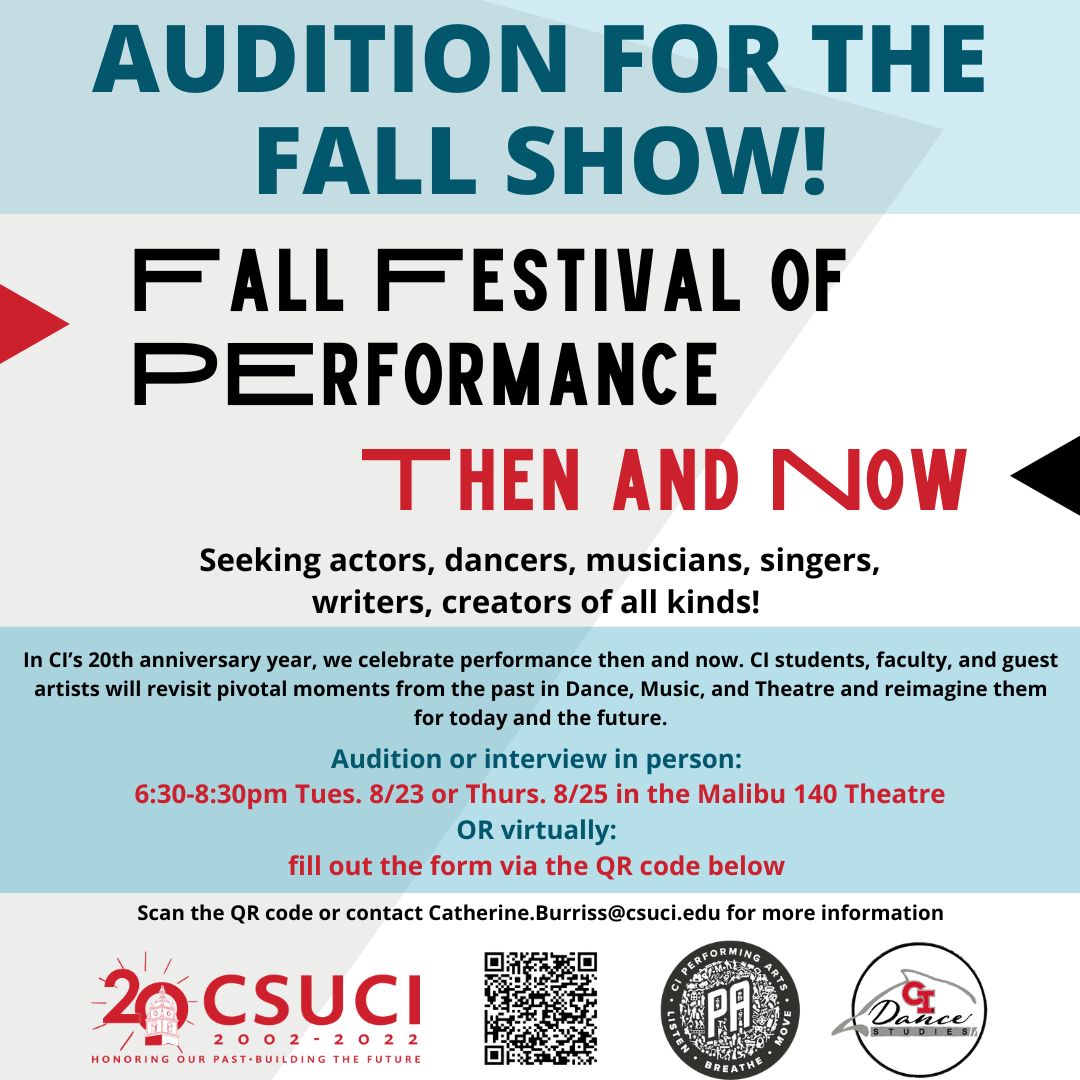 Auditions for the Fall Festival
In CI's twentieth anniversary year, the Fall 2022 Performing Arts production will be a Fall Festival of Performance in which we celebrate performance, then and now. PA students, faculty, and guest artists will revisit defining moments from the past in our lives, in Dance, Music, and Theatre, and beyond!). Along with two award-winning guest  artists--Dan Kwong and Joyce Lee--we will explore how the past moments have shaped who we are, and reimagine them for today and the future--and we want CI students from across campus to join us!
Learn more about the Fall Festival's visiting artists below!
If you have any questions, reach out to the Festival Producing Artistic Director and PA/ART 191/391 instructor, Catherine Burriss @ catherine.burriss@csuci.edu.

If there is something you want to try and would like some help with, we would be happy to train you. We invite you to open up to the possibilities and come play with us!
FIND OUT MORE OR AUDITION IN PERSON: 
6:30-8:30pm, Tues. 8/30 in the Malibu 140 Theatre
MEET THE GUEST ARTISTS: 
6:30-8:30pm, Thurs. 9/1 in the Malibu 140 Theatre
HOW TO AUDITION:
No preparation is necessary. You can come as you are, prepare and perform a monologue, describe how you hope to participate in the Fall Festival, share your ideas for a "Then and Now" performance or story, or if you prefer a script to perform, you can choose one of the monologues available on the Google form linked below.
If you can't make either of the Week 2 meetings, audition or declare your interest virtually via the Google form:
Fall Festival of Performance: Then and Now Google form. 
Welcome Visiting Artists Dan Kwong and Joyce Lee
To kick off CI's 20th Anniversary year, the Performing Arts program has invited two guest artists to work with students from across the University on creating performances for the Fall Festival of Performance: Then and Now. Each will lead a multi-week workshop with students framed in collaboration with each other, as part of the PA/ART 191 Production and PA/ART 391 Advanced Production courses.
Dan Kwong
Hailed as a "master storyteller", Dan Kwong is an award-winning multimedia performance artist, writer, director and actor who has presented his work nationally and internationally since 1989. Touring extensively, he has performed in over forty states in the U.S. and in England, Hong Kong, Thailand, Cambodia, Indonesia, Mexico, Canada, China and Korea. He also lectures and teaches workshops in Japan and Vietnam.
 
Adapting to pandemic conditions in 2021, Dan shifted to filmmaking and produced two feature-length documentaries last year: Commissioned by 18th Street Arts Center, WE WERE ALL HERE explores the multicultural history of the Santa Monica neighborhood once known as "La Veinte", where Kwong has lived for 30 years. CON SAFOS tells the story of Ruben Funkahuatl Guevara and his unique role in the development of Chicano culture, produced for PBS/KCET's Artbound series. CON SAFOS won two awards from the L.A. Press Club and was nominated for an Emmy.
 
Most recently he wrote, directed and acted in a new stageplay, MASAO AND THE BRONZE NIGHTINGALE, which premiered at Casa 0101 Theater in Boyle Heights in April of this year. The play combines factual historical events with a fictional story of an inter-racial romance in post-war Little Tokyo.
 
Kwong serves as Associate Artistic Director of Great Leap, the multicultural performing arts organization founded by pioneering Asian American artist Nobuko Miyamoto. He is a graduate of the School of the Art Institute of Chicago and a Resident Mentor Artist at 18th Street Arts Center in Santa Monica.
Joyce Lee
Joyce Lee is an award-winning and accomplished multi-disciplinary artist, actor, filmmaker, playwright, and teacher. She was in the Obie-award winning Target Margin Theatre production, MAMBA'S DAUGHTERS and received an Audelco award for her portrayal of Mattie Campbell in August Wilson's JOE TURNER'S COME AND GONE (New Federal Theatre). Her play THE DEAN'S OFFICE received the Best of Broadwater Theatre award at the Hollywood Fringe Festival 2021.  Her documentary "The Ethnic Groups of Ghana" was shot while a fellow of The William and Eva Fox Foundation in Ghana, West Africa. Her short play, "Nino and the Principal's Daughter" toured Catholic Schools in Los Angeles under Enrichment Works sex-education program. Ms. Lee also has a passion for social development and holds a certificate in Social Emotional Healing through the Arts from UCLArts, Santa Monica. She has worked with talented youth in probation camps and at under-funded schools throughout Los Angeles and New York City. A member of SAG-AFTRA, AEA, The Actor's Studio and an officer with the Black Association of Documentary Filmmakers West, her current film projects include a documentary, Artist Amidst Covid-19 and Black Lives Matter and Essence of Love, a short film on hate crime in which a child is the unintended victim. 
Ms. Lee taught Voice for Performance at Northwestern University in Evanston, Illinois and Voice and Speech Production in the Acting for Film Department at New York Film Academy in Burbank, California. She was Resident Professional Teaching Associate at Cornell University's School of the Arts where she taught Acting. She has worked as a Teaching Artist for Lincoln Center Institute, Theatre for a New Audience, New Federal Theatre, Theatre for a New City, and the Los Angeles Women's Theatre Festival. She earned an MFA in Acting from NYU, where she studied with Linda Gates, the late Nora Dunfee, Ron Van Lieu and Olympia Dukakis. She has acted in TV, film, off-Broadway and regional theatre including Missouri Rep, Milwaukee Rep, People's Light and Theatre Co. (Malvern, PA), and Virginia Stage. In addition to serving as a guest artist for the Fall Festival of Performance, she will also be teaching Vocal Empowerment for the Stage and Screen as well as Performance and Presence this semester at CSUCI.