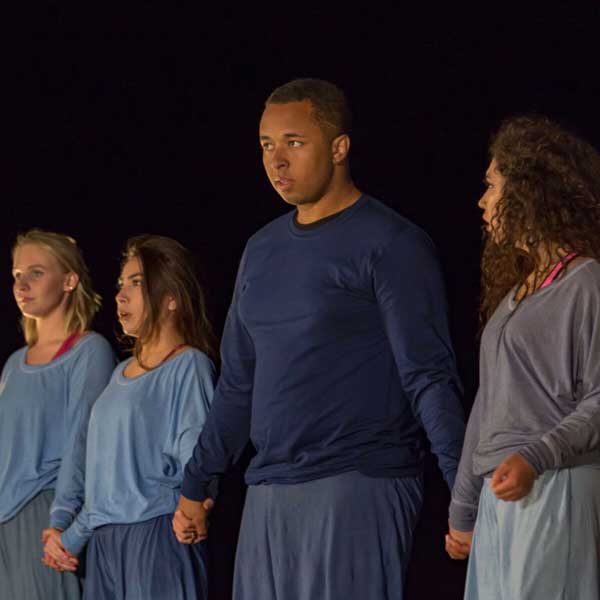 Arts Under the Stars is an annual, free, outdoor extravaganza, featuring multimedia performances surrounding a theme.  Teams of student researchers, artists, and performers collaborate to bring the event together.  In 2018, Arts Under the Stars will take place Friday, May 4 and Saturday, May 5 from 6:30 to 9:30 p.m. in El Dorado Park, located on campus at the corner of Santa Barbara Avenue and Ventura Street. 
The 7th annual Arts Under the Stars theme is "Empathy." Chosen by the Center for Integrative studies, the "Empathy" can manifest through all areas of study and is essential to humanity.
This year AUTS is partnering with the annual SAGE Undergraduate Research conference also held on campus, and will perform two evenings, including a short awards ceremony for undergraduate research excellence. Please consider participating in this year's AUTS/SAGE production.
Do you have a Research or Creative Idea?
Ideas can come from any program, department, club, faculty, staff, or student on campus. If you can present your idea in a poster, AUTS can bring it to life! If you are interested in proposing a research or creative idea, visit the website and submit a Google form by November 15, 2017.
Interested in Behind the Scenes, Helping Out, Spreading the Word, PR, Translation?
If you are interested in any aspect of EVENT PLANNING—advertising, social media, food service, production development, event coordinator, stage manager, marketing specialist, web site designer, augmented reality, liaison between performers and researchers, website creation, supporting artwork, translation, program development, implementation of technology in performance, and event app creation—Enroll in PA 390 Events (3 units).
Want to Perform?
If you are interested in being ON STAGE: Range of performance interests can be theatre, dance, music, cirque, poetry, video design, technology integration, robot building, drone operator, etc. If you have a talent you want to contribute- join us!
Enroll in PA 391 production (3 units). No previous experience or audition required. Class meets MW 3-5:50 PM.
Want to Be on a Creative Team?
If you are interested in collaborating as a film maker, choreographer, actor, dancer, musician, composer, performer, sculptor, costume designer, artist, graphic designer, etc. AUTS needs and wants your creative input to create a unique event that reflects the integrative and special community that is CI.
If you are interested in implementing a research idea as a creative artist and collaborating with artists in other disciplines, please visit the website and submit a form. You will be required to sign up for PA 391 production if chosen to lead a performance team of artists and collaborate with researchers.