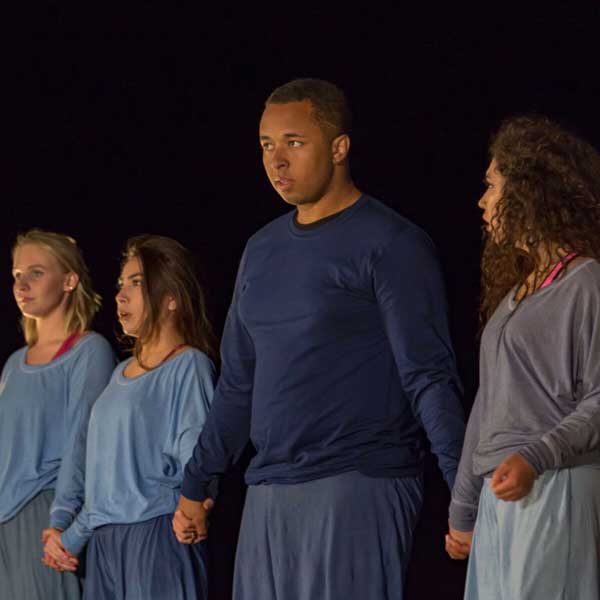 Arts Under the Stars is an annual, free, outdoor extravaganza, featuring multimedia performances surrounding a theme.  Teams of student researchers, artists, and performers collaborate to bring the event together.  The 7th annual Arts Under the Stars theme is "Empathy." Chosen by the Center for Integrative studies, the "Empathy" can manifest through all areas of study and is essential to humanity.
California State University Channel Islands invites you to join us for Arts Under the Stars and the 10th annual SAGE Student Research Conference. Immerse yourself in the research and creative talents of CI's students. Arts Under the Stars will take place Friday, May 4th at 6:00 PM and Saturday, May 5th at 5:00 PM in El Dorado Park, located on campus on the corner of Santa Barbara Avenue and Ventura Street. The 10th Annual SAGE Student Research Conference will take place Saturday May 5th in the Grand Salon from 11:00 AM-4:00 PM. Saturday will conclude with an awards ceremony for excellence in student research embedded into the Arts Under The Stars presentation.
Arts Under The Stars is a free outdoor event that showcases art in many forms - including multimedia performances, live music, dancing, and short plays. Student researchers, artists, and performers have collaborated to create this event which will showcase their talents and views on empathy. For anyone who is more comfortable reading or speaking in Spanish, our program, website, and video content will be presented in both English and Spanish.
Arts Under The Stars is picnic style with no reserved seating and it is recommended to bring blankets or chairs for this event. Dress warmly. Food will be available for purchase from food trucks; however, if you choose to bring your own food and drinks we ask that you refrain from bringing alcohol.
Our extraordinary event is made possible through the hard work and dedication of the students and faculty involved, as well as the Instructionally Related Activities fund who generously awards the funds used, and you, our audience.