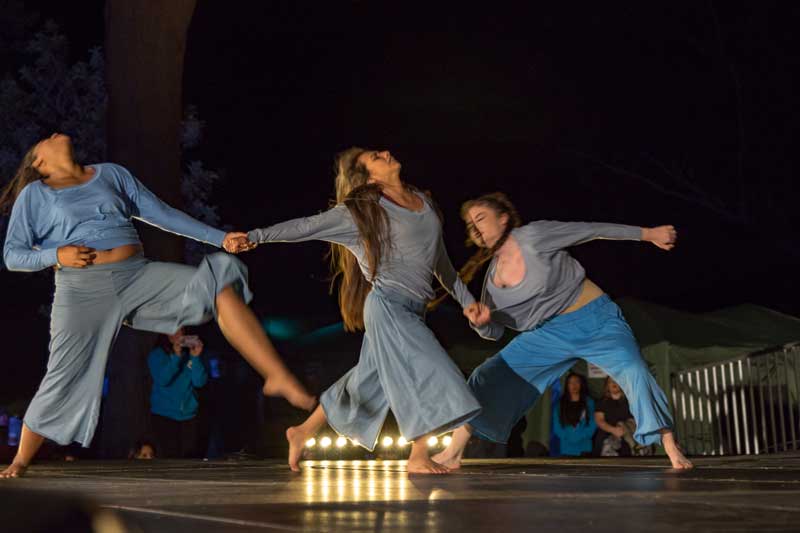 The Dance Studies program at CSU Channel Islands centers on dance and movement as the embodied understanding of the human experience. Dance is where bodies--both individual and communal--find deeper connection to communities, social ideas, a complex global world, and human subjectivity. Throughout their journey at CI, regardless of ability or previous access, students will connect dance to heritage, history, and social structures, preparing them to be mindful citizens and dance artists, creating a more equitable world in the twenty-first century. 
The Dance Studies Major prepares students to find their own creative identities by  harnessing their knowledge of bodies, cultures, and global awareness, to work in the interconnected spheres of Hollywood, Broadway, concert dance, digital platforms, education, community organizing, arts activism, dance making, somatic practice, dance therapy, social work, arts administration, and to simply embrace the joy of dancing. 
The Dance faculty at CSU Channel Islands has a wide range of experiences and awards such as the Associate Choreographer for the 20th Anniversary National Tour of Rent, the American Music Awards with Selena Gomez, Disney Special Events and Television Specials, award for Best Choreography from BroadwayWorld.Com, the CSU Faculty Innovation and Leadership Award, CSUCI President's Award, the Christina Lindborg Schlundt Lecture Award, and more. As a student you will be prepared for a wide range of careers in dance and related fields through high impact practices shaped by people who know what is needed to have a lifelong career in dance. Students who have graduated from the dance program have entered into a diverse range of careers as talent agents, social workers using dance, professional dancers and artists, arts administrators, and dance educators.
Curriculum and flowchart (PDF, 39.4KB)
Loading...