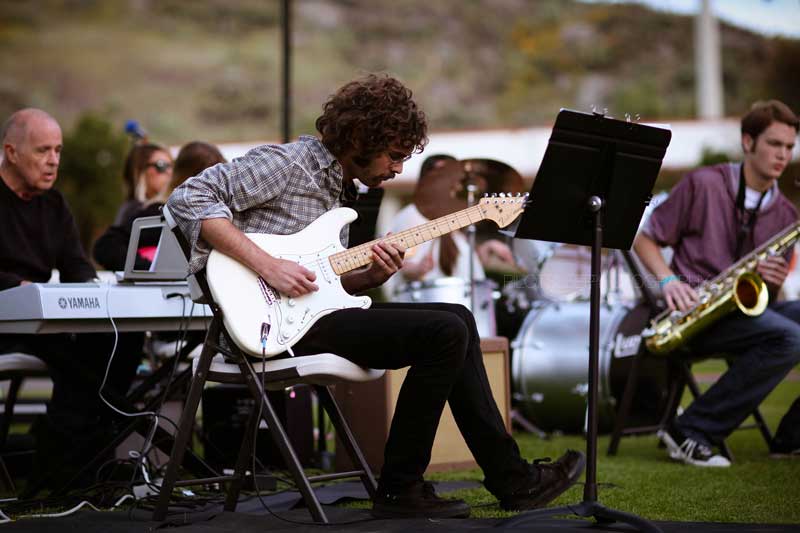 The Certificate in Guitar at California State University Channel Islands is designed to prepare individuals for a career as a professional guitarist working in a diverse range of musical styles. Courses specifically focus on sight-reading music, technique, music theory, fret-board knowledge, ear-training, music history, repertoire and proficiency in many musical genres including jazz, classical, blues, rock, funk and other popular musical styles. For students with no prior guitar experience, it is strongly recommended that PAMU 202 : Group Guitar Lessons be taken before beginning the Certificate in Guitar. The certificate will culminate with a recital/lecture or a CD recording project in their senior year.
The certificate in guitar is unique because it combines extensive study of guitar with important theoretical knowledge in music. Through individual private lessons in guitar, guitar ensemble classes, audio recording class, and music fundamental and theory courses, students learn how to take what they have learned in the classroom and apply it to their instrument. Upon completion of the certificate, students will have the training and skills to become a professional guitarist.
Lower Division Required Courses for the Certificate in Guitar - 11 units
PAMU 109 - Private Lessons Units: 1 (complete 3 semesters)
PAMU 161 - Music Fundamentals Units: 3
PAMU 205 - Musical Improvisation Units: 2
PAMU 261 - Music Theory I Units: 3
Upper Division Requirements for the Certificate in Guitar - 11 units
Required Courses - 8 units
PAMU 305 - Guitar Ensemble Units: 1 (complete 2 semesters)
PAMU 309 - Private Lessons Units: 1 (complete 3 semesters)
PAMU 385 - Audio Design And Recording (Cross-listed as ART 385) Units: 3
Upper Division Electives - 3 units
Select from the following:
PAMU 330 - Jazz in America Units: 3
PAMU 332 - World Music Units: 3
PAMU 337 - Music In History Units: 3
PAMU 361 - Advanced Music Theory and Analysis I Units: 3
PAMU 435 - The Music Museum (Cross-listed as BUS 435, ECON 435, EDUC 435) Units: 3
Potential careers for a certificate in guitar alumni include: private guitar instruction, live music performance, studio guitarist, sideline musician, class guitar teacher, music fundamentals and theory teacher and assistant studio engineer.